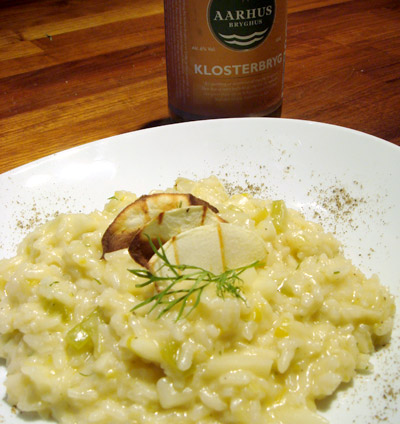 This risotto is a danishification of a nice recipe I have got from Sigrid at CavolettoDiBruxelles.it. It happened that I was supposed to make Sigrid's dish one evening and I was missing some of the ingredients. So I have used what I had at home: apples from my little garden and beer instead of white wine for the post toasting phase of the rice. Italians would shout "sei matto!!". I know it's a big scandal. But at least I have used a very nice beer from Aarhus: The "Klosterbryg" meaning the brew from the monastery (in Italian "convento"). It's a handmade brew, at least this is what its nice designed label says. It has a quite special taste, I haven't been thought a sommelier course so far, but I would say it's a "corposo", full-bodied taste.
The apple from my tree are quite sour so I thought it was a nice idea to add some dill. Both for balancing the taste and for making it more Scandinavian as possible!
If it's your first risotto I suggest you to read al least my previous post about a basic risotto
where I have explained all the phases for the perfect risotto into details (soffritto, tostatura, resting and mantecatura)

INGREDIENTS for 4 people
- 200g of RISO CARNAROLI (Carnaroli Rice …please!)
- 1 leek (porre, porro, allium ampeloprasum)
- 1 green pepper
- 1 bottle of Klosterbryg from Aarhus Bryghus (fridge cooled)
- 1 litre of water
- 40g of butter
- 4 tea spoons EXTRA VIRGIN OLIVE OIL
- 50g Parmigiano Reggiano Cheese
- celery, onion, carrot, laurel for the stock
- some fresh dill
If you can't find that specific beer I feel very sorry for you. It's a very nice beer. I guess you might use a dark beer, maybe a Ceres Export, but don't get me wrong. They are not the same at all.
Talking of pepper just because I am Italian and I can't stand this misunderstanding anymore. Peperone is always a vegetable: a green, red or yellow pepper. Pepperoni (with 2 p) is a made up word that now is on the Oxford English dictionary. Anyway if you ask in Italy for a pepperone (with one, two, three or even four p) you will always get a vegetable and never a sort of salami. So don't get piss with the waiter if you order a Ppeppperoni Pizza and then you won't get any meat of sort on it. Next time just order a "pizza al salame piccante" and you won't get "ripped off"
Video
Recipe
The stock, you need to start to prepare it 30 minutes before.
1. Peel and cut in two a couple of carrots
2. Clean the celery and make some incisions on it (it will release more taste into the stock)
3. Peel an onion. When I peel onions I always remember what my Sardinian friend Antonello once told me: "my mother trow away the first layer of it when peeling, and if my mother does so it mean it's a must"
4. Put all the vegetable in 1l of water, add same salt, black pepper, and laurel
5. Let it boil for at least 30 minutes.
The risotto.
1. Open the beer. Fill up a glass and drink it.
2. Put 4 tea spoons of EXTRA VIRGIN OLIVE OIL, and 20g of Danish Butter Lurpak in a big pot. This mixing is a good trick to avoid the butter to release acrolein that is bad for your liver and to avoid to burn the oil.
3. Slice the leek in tiny tiny slices and fry it into the oil butter
4. Peel the green pepper as if it was a potato. Removing the peel makes it more digestible. Remove the white kernel and slice it in small cubes.
5. When the onion is soft but not burned add the rice into the pot and toast the rice.
6. After two minutes add a glass of beer and let the alcohol evaporate for circa 2 minutes
7. Add 3 ladle of stocks.
8. Add the chopped green pepper
9. From now on it is the same procedure you would use for every risotto. Just remember to pour 3 ladle of stock and stir now and then. Stirring is important in order to distribute the stock and the heat.
10. 5 minutes before the rice is ready, peel, slice and chop two apple and add them into the rice. You might want to save a couple of slices for the topping.
11. Add some small cubes of Parmigiano for the "mantecatura".
12. When the rice is "al dente" e "all'onda" add some chopped dill. All'onda means wavy, in a way that if you tilt the plate the risotto ripples in waves.
Let it rest for 3 minutes and then serve with some grilled apple slices on the top.