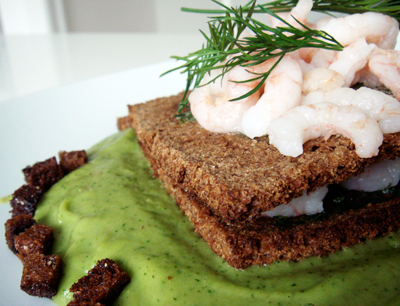 This is the dish once known as rugbrød lasagna.
If you are not Danish then you must know that rugbrød is what pasta is for Italians. Many of my good Danish friends had some comments about the previous name. It sounds to me they were claiming that there was something wrong in putting together the 2 words "Lasagna" and "Rugbrød". Ok, maybe is too early. I have renamed it into Millefoglie. That also describes, in Italian, something that is made of many layers. A little bit more posh maybe.
I had a funny conversation with a friend of mine visiting me in Copenhagen. He is a researcher, bio engineer working in the field of proteinomic. He was here with his "Big professor" and I don't remember why the three of us ended up talking about the fact they had found out that beans and shrimps match together and create a nice taste. The day after I saw Simone Rugiati, on the sat TV channel Gambero Rosso, building up something with some bread slices.
Usually on Saturday or Sunday me and my girlfriend forget to eat a proper lunch. I don't know why but we do it. So around 14 I usually make up what I call a "drastic solution" to my empty stomach. This dish is one of those. It looks simple but it's very rich of fibres and proteins.
INGREDIENTS for 2 people
- 70g of white beans
- 70g of chickpea (kikærter)
- 1 red onion
- 1 litre of water
- laurel
- dill
- fresh timian
- 200g of shrimps
- 15 asparager
- rugbrød 8 slices
- EXTRA VIRGIN OLIVE OIL (you need a very good one!)
Video

Recipe
1. Boil in 1l of water the beans and the kikærter (I use the Danish word is more serious professional than chickpea) with the onion and some laurel. It needs to boil for circa 1 hour.
2. Start the oven at around 200 C.
3. Slice 2 slices of rugbrød in small cubes. Put them in a baking pan.
4. Put a little bit of olive oil over a slice of rugbrød, some timinian and press it. Repeat 4 times.
5. Remove the border from the previous 4 slices and slice them. Put them together with the other small cubes.
6. Put some salt and timian in the baking pan, and put it in the oven.
7. Put in the oven the 6 slices of rugbrød. The don't need too much, just get them a little bit crusty on one side but still soft.
8. The cubes of rugbrød need a little bit more in the oven, they have to be crunchy but not too dark and hard.
9. When the beans and the kikærter are almost ready add the chopped asparager. Save some asparagus tip for the topping. Wait 5 minutes and we are ready to go with the "vellutata".
10. Remove the laurel leaves, you don't want to blend it!
11. Now you have two options, either you go with a hand blander directly into the pot or you filter the content of the pot and save the stock, then you blend the content adding some stock, now and then, until you get a "velvet like" cream: vellutata. In the video I did the first one to make it less boring.
12. Prepare a layer of vellutata in a wide dish. Place some rugbrød cubes around and the first slice in the centre. Put some shrimps over the first slice. Cover with another slice and repeat until you get a three layers composition. Cover with dill and asparager tips. If you want add a little bit of oil "a filo" over the crunchy cubes. "A filo" means it should be like a tiny thread covering the food.